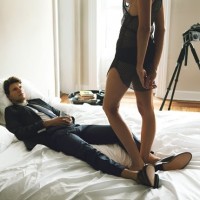 How does a porn star have sex when he's not on a porn set? Does he pump away for hours with his chiseled abs glistening with sweat?
According to porn star Joey Ray, porn star sex isn't all it's cracked up to be. No one wants it to last that long, that hard. Porn focuses on performance, not pleasure. You might learn some fancy moves from porn, but you're not going to learn how to truly pleasure a woman.
So, how do you please a woman? 
Podcast: Play in new window | Download
Read More

»
Posted by
Emily
| 0

comments